Projects - Past & Present
Jaguar Knobbly Lister
This was Britain's most successful sports racing care during the 1950's, winning almost every circuit in Britain and almost unbeatable in the USA and overseas. The Knobbly Lister continued to keep the Jaguar name in the forefront of sports car racing long after the Jaguar D Type had become obsolete.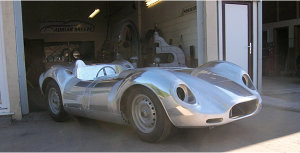 It was designed and built by Brian Lister with a new lightweight aerodynamic chassis and 'knobbly' body to take the Jaguar drive train and became the world's best sport racing car of the 1950's. For five seasons from 1954 Lister cars were always in the headlines, consistently beating the much larger works teams such as Aston Martin. Unfortunately, in 1958 after Archie Scott Brown died in a racing car accident at Spa, it was criticized for having magnesium alloy bodywork which was inflammable, although an RAC examination found no faults with the car. Brian Lister persevered for a few years afterwards, but without his friend Archie things were just never quite the same.
We are really proud to be associated with Lister Cars and have been commissioned to build the Knobbly Lister bodies. For more information and availability please see Lister Cars who now own the copyright.
Fiat S76 (The Beast of Turin)
Known as The Beast of Turin, the Fiat S76 is owned by Duncan Pittaway and has taken 10 years to restore. It was reawakened back in December 2014 when it was driven on a 140-mile trek from near Bristol to the Goodwood Festival of Speed in 2015 for the Hillclimb run. This is the first time it had actually been driven in over a century.
It is the surviving example of a speed-record contender the Italian car maker built before WWI. Its 28.5-litre inline-four was capable of providing an impressive 300 hp which reached 116 mph, and a one-mile land speed record, in 1911. An even higher-speed run the following year was disqualified when the car could not make the required return run.
Whilst the restoration was being carried out we were pleased to be commissioned by Duncan to recreate the main body sections to exacting standards needed for such an important piece of motoring history.
Aston Martin DB2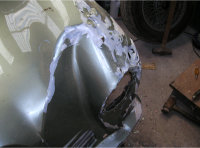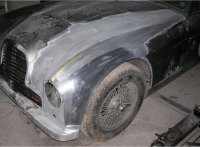 This car was raced at Le Mans in period but after an unfortunate racing accident (see left) at Castle Combe, Somerset UK we were commissioned to rebuild the bodywork.
The repairs were carried out with sympathy (see right) in order to maintain as much originality as possible on such as an important historic car.
Other Exciting Projects in the Pipeline include:
Chevrolet Cheetah, WO Bentley Bodies, Mark 6 Bentley Specials as well as prototype commissions.